It's that time of year again. In fairness, it feels like there's a holiday to buy stuff almost every other month. But it's the time of year where I give you a couple ideas of affordable pieces of kit you might be able to pick up over the holiday discounts to make your life easier or to bring a smile to a colleagues face. With that said let's just dive right in!
Portable Storage
If you haven't already gotten yourself a Samsung T5 external SSD, now is the time. These little devices are magical. They changed my life. I used to lug around those 1 to 4TB external drives with big SSDs in them and moderately decent write speeds. Now I have something the size of 3 or 4 credits cards stacked, has insane read/write speeds, weighs practically nothing, fits anywhere in my bag, comes with USB C, and is affordable on top of all that. These perform so well I would even be comfortable running media for shows or events off of one. It's been a robust and reliable piece of my kit since they first came out. I personally have the 1TB version, but it can go up to 2TB, which should be more than enough for a personal storage.
Mechanical Keyboard
I know, they make crazy loud noises. I wouldn't recommend everyone in an open office all start using mechanical keyboards, but if you're a freelancer, work in your own studio, or have some space between yourself and your working neighbour, I wholeheartedly recommend one. The difference in experience when I'm working on a laptop to when I'm working on my mechanical keyboard is huge. My hands get less tired after long days of typing. I make significantly less mistakes and typos. And I just feel more confident when I type. A lot of this has to do with the really firm feedback your fingers receive when hitting individual key strokes. Your conscious brain might not notice, but you'll see the results. There are so many kinds you can get but I recommend something simple and to the point. I live by my cheap Cooler Master Master Keys Pro L White. It needs no software (thank the gods!), only has white LED back lights, has a num pad (for real work…), and comes with different options for the keyboard switches.
They come with the Cherry MX switches, often regarded as the best switches around. I personally like Cherry MX Blue, which are the clickiest and have the most feedback. If you're hanging around other humans, maybe you can go for the Cherry MX Red switches that make a lot less of a "CLICK" noise when you hit them. Either way, it's a must have.
TouchDesigner Dongle
This one might sound super lame but it's one of the most useful things I have. I don't think I could ever go back to using non-dongle licensing for TouchDesigner. I switch computers often and roam between a lot of different workstations. Being able to not care where I am or who's computer I'm using because I can pop in my mini dongle and immediately have my pro licenses loaded in is amazing. While I wish they were cheaper, they currently cost $180 USD but I've had mine since they came out years ago and it's still going strong. But, if you're prone to losing small USB objects…you might want to pass… as you can't reset your dongle license like you could do with a web-based license if something every happens.
Great Mouse
I'll keep this one short and sweet. I've been using the same mouse for almost 8 years now. I've had to replace it a few times when the clicking became unreliable, but they're pretty affordable, have good precision, are wireless, and can be used with almost no table space (great for installation sites!). Give it up for the Logitech M570, a living legend and staple piece of kit for a lot of TouchDesigner developers:
It's lightweight and can take a beating in a backpack. It has a small storage spot for the wireless dongle inside of the battery area which is as convenient as it gets. Don't spend the extra money for the MX Ergo. I tried one and it's far heavier, doesn't travel well, has no storage for the Logitech wireless dongle (so you have to carry that somewhere else…), and the rotation didn't really give me a more comfortable or ergonomic-feeling mouse experience.
Magewell HDMI Capture Box
There are so many settings where you might want to pipe a live video signal into your TouchDesigner installation. Whether it's content from another performer, a PowerPoint presentation you need to integrate into your projections, another TouchDesigner machine piping heavy content to your display box, a DSLR camera, or capturing signals from tablets or mobile phones, the Magewell HDMI has you covered. Almost any pro TouchDesigner developer, as well as myself, would recommend this as one of the go-to USB 3 capture cards and they're quite affordable.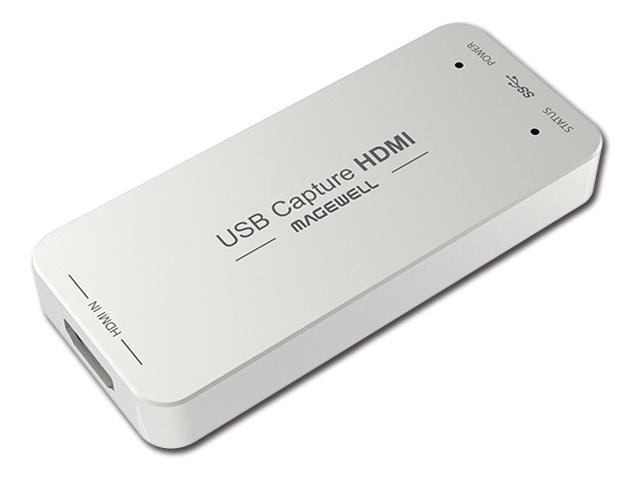 Get Our 7 Core TouchDesigner Templates, FREE
We're making our 7 core project file templates available – for free.

These templates shed light into the most useful and sometimes obtuse features of TouchDesigner.

They're designed to be immediately applicable for the complete TouchDesigner beginner, while also providing inspiration for the advanced user.
Flexible Camera
Speaking of gear I've had for many many years, the Logitech C920 has been in my kit for as long as I can remember. It's not particularly remarkable at any one thing, and to be honest their software is a little bit annoying (not the best to automate for permanent installations)…BUT it's incredibly affordable, travels and takes a beating well, has relatively decent quality image, easy to mount on just about anything, and is 100% plug and play with no need for crazy softwares or drivers. You can literally plug the C920 into just about anything and get instant video feed going into that app or system. Especially with TouchDesigner this is an incredibly easy camera to use when testing workflows and I even used it as my main camera when I was making my latest workshop, Machine Learning for TouchDesigner.
This is the camera that lives in my backpack and I take on the road with me for everything from prototyping projects, using for business video calls, teaching, and everything in between. It hasn't let me down yet and I expect many more years to come from it. Logitech has since released some newer models with maybe slightly better image quality and higher resolutions, but this one is capable of HD streams at 30fps, which is more than enough for most people's general workflows. It gets my stamp of approval.
Get Our 7 Core TouchDesigner Templates, FREE
We're making our 7 core project file templates available – for free.

These templates shed light into the most useful and sometimes obtuse features of TouchDesigner.

They're designed to be immediately applicable for the complete TouchDesigner beginner, while also providing inspiration for the advanced user.
Good headphones
I think I would lose my mind if I didn't have solid pairs of headphones with me. You might have your own preferences of headphones and the features they have, but I generally like them to be pretty simple and robust. If you're working in an office or your studio for hours on end, there are very few things as comfortable and as useful as pair of Bose noise cancelling headphones. I have a pair of the QuietComfort 35 ii that I've traveled the world with. The noise isolation is mind blowing, even I was impressed, and I'm using pretty resistant to admitting I'm impressed by something. They're a bit expensive, but they last a long time:
These days I don't travel as much with them anymore since they take up too much space in my bag, but when I'm in the office or at home, these are what are usually on my head. A good recommendation for travel headphones are the Jaybird Tarah Pro headphones. They're more sporty in nature but they're extremely comfortable, can fit in my pocket, have great battery life, great sound quality, and can really take a beating.
I'd still recommend trying on these headphones at a shop to see if they match your uses, but I love both and have one or the other with me at all times.
Wrap up
Whether you're buying a gift for a fellow TouchDesigner friend to show your appreciation to them or you're picking up a bit of gear on sale over the holidays, you won't be disappointed with anything that I've recommended above. They're all solid pieces of kit that I've had with me for many years and I rely on to this day. Most of them are also really affordable, which should make them even better deals over the holidays.